James P. Murphy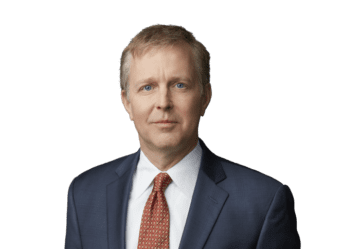 James P. Murphy
Shareholder
James "Jim" Murphy is a Shareholder at McAndrews. For more than two decades, Jim has litigated, obtained and licensed all forms of intellectual property, negotiated myriad complex and basic transactions, and counseled clients on every facet of intellectual property law and related commercial litigation.
His litigation experience began as a Law Clerk to United States District Court Judge James H. Alesia in the Northern District of Illinois. This was followed by private practice, which included all phases and aspects of litigation, including trials, Markman hearings, TRO and preliminary injunction proceedings, and appellate practice. Jim is licensed to practice before the United States Patent and Trademark Office, and he represents clients in all areas of PTO practice.
He has successfully represented plaintiffs and achieved verdicts or settlements resulting in collections of millions of dollars. He has also successfully defended clients against various charges of infringement and other assertions of intellectual property.
Jim's practice involves a diverse range of technologies, including telecommunication systems, electronics manufacturing, lighting systems, electro-mechanical gaming devices, hospital kinetic bedding, consumer products, financial pricing model methodologies, dental x-ray technology, implantable cardiac defibrillators and pacemakers, balloon angioplasty catheters, spinal implants and surgical tools, and other medical technologies. In addition to patent matters, Jim also represents clients in the areas of antitrust, trade secret, trademark and trade dress, copyrights, and Lanham Act cases.
EDUCATION
DePaul University, J.D., with high honors
Michigan State University, B.S., Engineering (electrical- and mechanical-based)
BAR ADMISSIONS/REGISTRATIONS
State Bar of Illinois
State Bar of Colorado
State Bar of Minnesota
U.S. Court of Appeals for the Federal Circuit
U.S. District Court for the Northern District of Illinois and various other U.S. District Courts
U.S. Patent and Trademark Office

Education
DePaul University, J.D., with high honors
Michigan State University, B.S., Engineering (electrical- and mechanical-based)
Practices
Design Rights
IP Transactions
IP Litigation
Post-Grant Practice
Trademarks & Copyrights
Patent Prosecution
Bar Admissions/Registrations
State Bar of Illinois
State Bar of Colorado
State Bar of Minnesota
U.S. Court of Appeals for the Federal Circuit
U.S. District Court for the Northern District of Illinois and various other U.S. District Courts
U.S. Patent and Trademark Office
Industries
Chemical
Computer & Electronics Technology
Industrial & Mechanical
Medical Devices
Consumer Products
Related Experience
Attorney, Niro, Scavone Haller & Niro, Chicago
Law Clerk, United States District Court Judge James H. Alesia in the Northern District of Illinois
Representative Matters
Electro-Mechanical Corporation v. Power Distribution Products, Inc., et al., Case No. 1:11CV00071, (N.D. VA. 2013) (patent infringement)
Flowmaster, Inc. v. Arvin Industries, Inc. and Maremont Exhaust Products, Case No. 98-2437, (N.D. Cal. 1998-2000) (patent infringement)
Arachnid, Inc. v. Valley Recreation Products, Inc. et al., Case No. 98-50282 (N.D. Ill. 1998-2003) (patent infringement)
Arachnid, Inc. v. Merit Industries, Inc., Millennium Reserve Corporation, and Peter Feuer, Case No. 99-5699 (N.D. Ill. 1999-2002) (patent infringement)
Arachnid, Inc. v. Bose, Case No. 99-1207 (N.D. Ill. 1999)
Riviera Distributors, Inc. v. Midwest Electronic Specialties, Inc., Case No. 04-1430 (C.D. Ill. 2008) (copyright infringement involving video poker game)
Heathcote Holdings Corp. v. Phillips Screw Co., and Phillips Fastener, LLC, Case No. 10-1468 ( N.D. Ill. 2010) (false marking)
Publications
Biotech Buzz PTAB Actions Subcommittee (April 2017- AIPLA)