McAndrews IPR Successes Pave the Way for Riddell's Victory over Rivals Schutt and Xenith
11.06.19
In 2016, Riddell filed suit against Schutt and Xenith, alleging that certain helmets containing an integral raised central band, aligned vent holes and/or a removable face mask infringed three Riddell patents regarding the same. Schutt and Xenith filed six IPR's challenging nearly 100 claims, many of the claims being challenged on multiple grounds. Riddell retained McAndrews to handle these IPR proceedings.
The Board declined to institute review of nearly half of the challenged claims. And even for those claims to be reviewed, the Board declined review on several grounds. The defendants had sought to stay the litigation pending resolution of the IPR's. However, because the Board was not reviewing many of the asserted claims, the court denied the defendants' motion. Shortly thereafter, Riddell and Xenith settled their dispute.
After multiple oral proceedings – including one at the Georgia State School of Law as part of the "PTAB Road Show" (see below) – the Board confirmed patentability of most of the challenged claims including: (1) all claims of USP 8,813,269 regarding a removable face mask; and (2) a majority of the challenged claims of the remaining two patents, including all but one of the claims to be asserted at trial in the parallel litigation.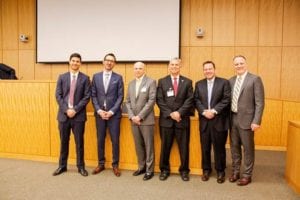 Armed with these IPR decisions confirming the patentability of their inventions, Riddell proceeded with a jury trial last May against Schutt in the Northern District of Illinois.  The jury found Schutt willfully infringed the asserted claims and awarded Riddell $5M in damages
(https://www.businesswire.com/news/home/20190521005855/en/Jury-Awards-Riddell-5M-Patent-Infringement-Lawsuit).
During post-trial briefing on several issues (including the amount of enhanced damages and attorneys' fees), the parties finalized a confidential settlement agreement.