Christopher Scharff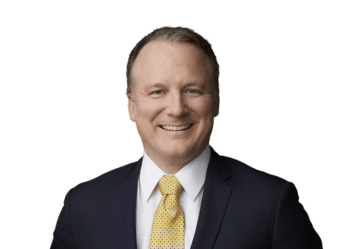 Christopher Scharff
Shareholder
Chris Scharff is a Shareholder at McAndrews who focuses on all areas of intellectual property, and in particular patent litigation, post-grant review proceedings, and IP transactional work.
Chris's litigation practice includes all areas of discovery, trial, and appeal.  Chris regularly represents both plaintiffs and defendants in disputes ranging from small cases to ones involving hundreds of millions of dollars.  Since the enactment of the America Invents Act, Chris has also represented clients in over 70 inter partes review (IPR) proceedings before the U.S. Patent Trial and Appeal Board.  Chris's IPR work has resulting in over a dozen early-stage non-institution wins on behalf of patent-owner clients, as well as numerous favorable final decisions or settlements for both patent-challenger and patent-owner clients. Patexia named Chris the 31st most active IPR practitioner in 2018, the 45th best-performing IPR practitioner the same year, and the 22nd most active IPR practitioner in 2017. He is a frequent speaker and author on IPR topics.
In addition, a significant part of Chris's practice includes advising clients in connection with IP transactional issues and mergers and acquisitions.  Chris regularly represents clients in connection with due diligence of target companies, counseling clients regarding the strength and scope of an IP portfolio, freedom-to-operate issues, IP ownership disputes, and IP valuations.  Chris also advises clients regarding IP licensing, confidentiality agreements, and joint development agreements.
Chris is a member of the bar of both the U.S. Court of Appeals for the Federal Circuit and the U.S. Supreme Court. He has represented clients on patent issues for technologies as varied as orthopedic implants, infusion pumps, spinal surgery devices, GPS hardware, chemical products, advanced materials, automotive technology, food processing, and wireless communication technology.
EDUCATION
Cornell Law School, J.D. cum laude
Northwestern University, B.S. Materials Science and Engineering
BAR ADMISSIONS/REGISTRATIONS
Illinois
U.S. District Court for the Northern District of Illinois
U.S. Court of Appeals for the Federal Circuit
U.S. Patent and Trademark Office
U.S. Supreme Court

Education
Cornell Law School, J.D. cum laude
Northwestern University, B.S. Materials Science and Engineering
Practices
IP Transactions
IP Litigation
Post-Grant Practice
Bar Admissions/Registrations
Illinois
U.S. District Court for the Northern District of Illinois
U.S. Court of Appeals for the Federal Circuit
U.S. Patent and Trademark Office
U.S. Supreme Court
Industries
Chemical
Consumer Products
Industrial & Mechanical
Medical Devices
Honors & Awards
31st most active IPR practitioner, Patexia, 2018
45th best-performing IPR practitioner, Patexia, 2018
22nd most active IPR practitioner, Patexia, 2017
Top 100 most active IPR Practitioners in the US, Docket Navigator 2014
Rising Star, Super Lawyers, 2013, 2014, 2015, and 2016
Publications and Presentations
Scharff, C and Kaskov, H, "How Will the $2.18B Verdict in VLSI Technologies v. Intel Impact Future Patent Valuations," IPWatchDog (April 2021)
Presenter, "Current Trends in U.S. Inter Partes Review Proceedings," World IP Forum (April 2021)
Presenter, "New Trends in IPR Enforcement Worldwide" at IPR Gorilla Conference (March 2021)
Scharff, C and Kaskov, H, "Why the Differences in Valuing Patents and Trade Secrets Matter," Builtin.com (February 2021)
Presenter, "PTAB Best Practices and Strategies:  Live Webcast" (October 18, 2016)
Presenter, "Challenging Patents in IPRs:  Strategies for Filing Petitions" (August 4, 2016)
5 Factors That Affect PTAB's Inter Partes Review, InsideCounsel (May 2016)
5 Tips for Challenging a Patent Via an IPR, InsideCounsel (December 2015)
5 Tips for Patent Owners Facing a Dreaded IPR Petition, InsideCounsel (November 2015)
Rethinking Medical Device Damages: Updated Strategies for Calculating Damages and Determining Valuation in Light of Evolving Fed. Cir. Case Law, Presented at ACI Medical Device Conference (March 2014)
Overview of the U.S. Patent System and Pharmaceutical Patents, Presented at University of Maryland Masters in Regulatory Science Program (2014)
Alternative Damages Theories in Patent Cases, Today's General Counsel (February 2014)
Get Them Talking: Ten Tips for Effective Expert Witness Depositions, Today's General Counsel (April 2013)
Think Before Sending That Email, Medical Design Technology (April 18, 2013)
Ten Tips for Taking More Effective Depositions, Intellectual Property Today (March 2013)
Think Before You Send: The Legal Risks in Casual Email, Forbes.com (June 2012) View File