Gregory C. Schodde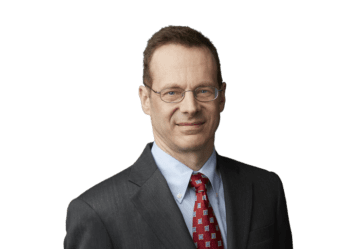 Gregory C. Schodde
Shareholder
Greg Schodde is a Shareholder at McAndrews and has more than 20 years of experience exclusively focused on patent litigation and IP-related issues. His cases have covered a variety of technologies, including telecommunications, computer networks, medical devices, process control equipment, materials and heavy industrial machinery. He has extensive experience in virtually every kind of contested matter: district court trials, ITC section 337 proceedings and inter partes reviews, in particular.
Greg has examined hundreds of expert and non-expert witnesses in depositions and trials before lay juries, judges, and the ITC, and has first-chair experience in bench and jury trials. He also has advised clients regarding their patent portfolios and the patent positions of their competitors, and on other intellectual property issues such as licensing, unfair competition, trade secret misappropriation, and Lanham Act false advertising claims. Greg has argued before the Court of Appeals for the Federal Circuit and is an active member of the Seventh Circuit's Council on eDiscovery and Digital Information. He is a registered patent attorney.
As a practitioner, Greg's approach mirrors his hobby of long-distance running: the steady, relentless pursuit of the long-term, strategic objectives a client is seeking from a particular case. He is particularly effective as a result of having both prior technical and business experience and training in addition to his legal experience, all of which are brought to bear on the matters in which he is involved. He runs cases by understanding them from a business perspective, evaluating the likely outcomes, valuing those outcomes, and then recommending and implementing strategies that maximize value for the client.
Greg holds two Bachelor of Science degrees from the University of Pennsylvania Management and Technology program, one in Economics from the Wharton School of Economics and one in Electrical Engineering from the Moore School of Engineering. He worked at Procter and Gamble as a telecommunications analyst for two years before attending law school at Drake University and was involved in projects implementing wide area, packet switched and local area broadband networks. Greg was managing editor of the Drake Law Review and a member of the regional championship moot court team. He also interned with the Polk County, Iowa county prosecutor's office where was actively involved in prosecuting misdemeanor criminal cases under Iowa's student practice rules. Greg graduated with Order of the Coif honors.
EDUCATION
Drake University, J.D., with honors
University of Pennsylvania, B.S.E.E., B.S., Econ.
BAR ADMISSIONS/REGISTRATIONS
Illinois
U.S. District Court for the Northern District of Illinois
Trial Bar
U.S. Court of Appeals for the Seventh Circuit
U.S. Court of Appeals for the Federal Circuit
U.S. Patent and Trademark Office

Education
Drake University, J.D., with honors
University of Pennsylvania, B.S.E.E., B.S., Econ.
Practices
IP Transactions
IP Litigation
Post-Grant Practice
Trademarks & Copyrights
Bar Admissions/Registrations
Illinois
U.S. District Court for the Northern District of Illinois
Trial Bar
U.S. Court of Appeals for the Seventh Circuit
U.S. Court of Appeals for the Federal Circuit
U.S. Patent and Trademark Office
Industries
Chemical
Computer & Electronics Technology
Industrial & Mechanical
Medical Devices
Life Sciences
Related Experience
Telecommunications Analyst at Procter and Gamble
Publications
Strategies For Discouraging Nuisance Patent Suits, Law360 (April 10, 2020) View File
The E-Discovery Challenge: Finding a Needle as the Haystack Grows, Bloomberg BNA (December 23, 2015) View File
E-discovery: Collect metadata to avoid ESI headaches, InsideCounsel (October 12, 2012) View File
E-discovery: Set realistic preservation boundaries early on, InsideCounsel (May 30, 2012) View File
E-discovery: Identifying relevant ESI without breaking the bank, InsideCounsel (April 23, 2012) View File
Strategies For Discouraging Nuisance Patent Suits, Law360 (April 10, 2020) View File