Kathleen A. Meyer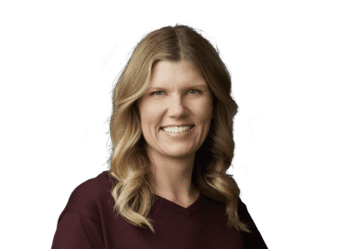 Kathleen A. Meyer
Shareholder
Katie Meyer is a Shareholder at McAndrews and focuses her practice on corporate intellectual property strategy, including competitive IP analysis, product clearance, licensing and patent and trademark prosecution. She is skilled at developing specialized corporate IP strategies to help clients navigate their competitors' patent landscapes using tailored freedom-to-operate programs that are effective and cost-efficient. She is particularly experienced in the area of competitive IP analysis, including US and international scope.
Katie is also experienced with patent litigation and has represented clients through pre-suit investigations, fact and expert discovery, Markman hearings, summary judgment, and pre-trial preparation. She has also represented clients in numerous appeals before the U.S. Court of Appeals for the Federal Circuit, as well as European Patent Office opposition proceedings and appeals. Katie practices in a wide variety of technology areas, including innovative nutritional products, medical devices, specialized medical applications and chemical processes.
Katie graduated cum laude from DePaul University College of Law, where she served on the Editorial Board for the DePaul Law Review.
She also gained practical experience while advising pro bono clients regarding IP matters for the Technology/Intellectual Property Clinic.  Her educational and professional background allow Katie to work effectively on intricate and complex IP and technology matters. Prior to law school, Katie worked in a neurobiology laboratory at Northwestern University. There, she performed various studies related to reproductive neuroendocrinology in small animal models. As an undergraduate studying bioengineering at the University of Illinois (U of I), Katie gained laboratory experience and familiarity with a number of biological and chemical technologies. Also at U of I, Katie was a research assistant and studied synthetic materials for medical applications.
EDUCATION
DePaul University College of Law, J.D.
University of Illinois, B.S., Bioengineering
BAR ADMISSIONS/REGISTRATIONS
U.S. District Court for the Northern District of Illinois
U.S. Court of Appeals for the Federal Circuit
U.S. Patent and Trademark Office

Education
DePaul University College of Law, J.D.
University of Illinois, B.S., Bioengineering
Practices
IP Transactions
IP Litigation
Post-Grant Practice
Trademarks & Copyrights
Bar Admissions/Registrations
U.S. District Court for the Northern District of Illinois
U.S. Court of Appeals for the Federal Circuit
U.S. Patent and Trademark Office
Industries
Chemical
Industrial & Mechanical
Medical Devices
Life Sciences
Related Experience
Neurobiology Lab Technologist at Northwestern University
Research Assistant at the University of Illinois
Publications
Intellectual Property Tying Arrangements: Has the Market Power Presumption Reached the End of its Rope?, 57 DePaul L. Rev. 539 (2008)