Bradley P. Loren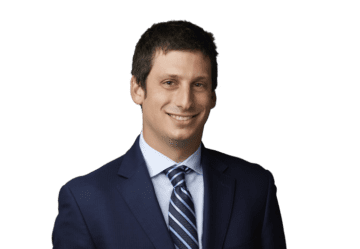 Bradley P. Loren
Ph.D. Associate
Bradley Loren is an Associate at McAndrews, where he focuses on intellectual property litigation and prosecution. He has worked on a wide range of matters and has experience in motion practice and advanced legal research for cases in a variety of technical areas.
Bradley graduated cum laude from Loyola University Chicago School of Law, where he received the IP Fellowship and served as the Publication Editor for the law school's intellectual property blog IP Bytes.
Prior to law school, Bradley earned his Ph.D. in Organic Chemistry from Purdue University. During graduate school, Bradley's research focused on pharmaceutical development and drug delivery. A major portion of his doctoral work was the development of an automated chemical reaction and purification platform in collaboration with engineers, computer scientists, and chemists. This platform involved the integration of technologies such as microfluidics, liquid handling robots, and desorption electrospray ionization mass spectrometry (DESI-MS) into a system capable of running and analyzing chemical reactions in high throughput. Bradley also worked on the development of therapeutics for a rare lysosomal storage disorder called Niemann-Pick Type C (NPC) disease. This work included the design, synthesis and evaluation of polymeric materials as potential therapeutics and MRI contrast agents. Bradley has contributed as an author on eleven publications and presented his research at several conferences, including international conferences in Germany and England.
While completing his undergraduate studies at the University of Iowa, Bradley's research focused on solid-state chemistry, including solid-state co-crystal self-assembly and solid-state photo-reactivity for materials applications.
EDUCATION
Loyola University Chicago School of Law, J.D. cum laude
Purdue University, Ph.D. Organic Chemistry
University of Iowa, B.A. Chemistry and Political Science
BAR ADMISSIONS/REGISTRATIONS

Education
Loyola University Chicago School of Law, J.D. cum laude
Purdue University, Ph.D. Organic Chemistry
University of Iowa, B.A. Chemistry and Political Science
Practices
IP Litigation
Patent Prosecution
Post-Grant Practice
Bar Admissions/Registrations
Industries
Chemical
Life Sciences
Medical Devices