Deborah A. Laughton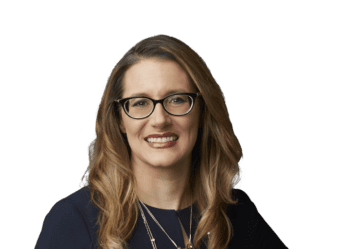 Deborah A. Laughton
Shareholder
Deborah Laughton is a Shareholder at McAndrews. She counsels clients in a wide range of intellectual property areas, including providing guidance on patent application preparation, prosecution, and portfolio management. She has extensive patent litigation experience, and has counseled clients through all phases of disputes including pre-suit investigation, fact and expert discovery, claim construction, summary judgment, trial, post-trial, and appeals before the Court of Appeals for the Federal Circuit. She is also intimately involved with due diligence investigations and frequently provides intellectual property guidance in connection with corporate transactions.
Deborah has also represented clients before the Patent Trial and Appeals Board as part of inter partes review proceedings. She serves as strategic patent advisor for clients that range from a leading provider of playground equipment and recreational products to a provider of aerospace and industrial engine controls, and a software company serving radiation oncology centers worldwide.
Deborah has also worked with diverse products and technologies including orthopedic implants and components, surgical suction irrigators, drug-eluting stents, pediatric hospital beds, nerve imaging technology, vertebroplasty and balloon-assisted vertebroplasty, medical image capture systems, surgical fluid waste management systems, self-sealing valves, climbing walls, and swimming starting blocks and timing systems.
For every matter, Deborah immerses herself in the client's business and technology in order to provide ongoing analysis and effective legal arguments and strategies that protect and further develop client investments and technologies. She recently represented one of the world's most innovative medical device companies in a major patent infringement lawsuit that resulted in a favorable jury verdict of $70 million, a finding that all asserted patents were valid and willfully infringed, and an injunction and treble damages following post-trial motions. Her involvement in the case also helped to secure an affirmance of patent validity, infringement, and lost profits from the Federal Circuit. She was additionally part of the team that successfully represented the client before the United States Supreme Court as the Court reviewed the standard for awarding enhanced damages for patent infringement.  She then further helped reinstate the client's award of treble damages, as well as an affirmance of the award from the Federal Circuit.
EDUCATION
Chicago-Kent College of Law, J.D. High Honors, Order of the Coif
University of Illinois, B.S. Nuclear Engineering
BAR ADMISSIONS/REGISTRATIONS
Illinois
United States Supreme Court
U.S. Court of Appeals for the Federal Circuit
U.S. District Court for the Northern District of Illinois
U.S. District Court for the Western District of Michigan
U.S. Patent and Trademark Office

Education
Chicago-Kent College of Law, J.D. High Honors, Order of the Coif
University of Illinois, B.S. Nuclear Engineering
Practices
IP Transactions
IP Litigation
Patent Prosecution
Post-Grant Practice
Trademarks & Copyrights
Bar Admissions/Registrations
Illinois
United States Supreme Court
U.S. Court of Appeals for the Federal Circuit
U.S. District Court for the Northern District of Illinois
U.S. District Court for the Western District of Michigan
U.S. Patent and Trademark Office
Industries
Computer & Electronics Technology
Industrial & Mechanical
Medical Devices
Related Experience
Nuclear Engineer at Exelon, Nuclear Fuel Management Group
Professional & Community Involvement
Board Member, The Coalition of Women's Initiatives in Law Firms
Advisory Board Member, University of Illinois Nuclear, Plasma & Radiological Engineering
Board Member, University of Illinois, College of Engineering Board of Visitors
Member, American Nuclear Society – National and Chicago Section Branches
Member, Alpha Nu Sigma National Honor Society
Honors & Awards
University of Illinois Nuclear, Plasma and Radiological Engineering Advocate Award, 2013 Recipient
University of Illinois Alumni Association Loyalty Award, 2010 Recipient