Herbert D. Hart III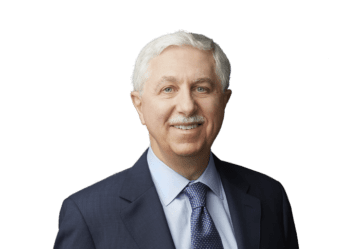 Herbert D. Hart III
Shareholder
Over thirty years of trial experience at the Patent Trial and Appeal Board have led patent owners and petitioners alike to entrust their most important, high-stakes cases to Herb Hart, who is a Shareholder at McAndrews.
With hands-on experience that extends back to the PTAB's predecessor, the Board of Patent Appeals and Interferences, Herb has developed an unrivaled knowledge of the nuances of the Board's practice and procedures and built a track record of effectively advocating for clients in a wide range of business situations. He has litigated cases spanning a broad array of technologies, including oil and gas, polymers, catalysts, herbicides, pharmaceuticals, biologics, telecommunications, and medical devices, with a particular emphasis on life sciences and chemical technologies.
Herb is consistently recognized as a leading intellectual property practitioner in publications such as Who's Who Patents, Legal Media Group's Life Sciences, Intellectual Management's IAM 1000: The World's Leading Patent Practitioners, Managing Intellectual Property's IP Stars, The Best Lawyers in America, and Legal Leaders' Chicago's Top-Rated Lawyers. He regularly speaks and consults on the intricacies of PTAB trial practice, on rulemaking under the post-grant provisions of the Leahy-Smith America Invents Act, and on pre-AIA patent interference practice.
Herb has held leadership positions in all three national intellectual property law associations, taking a high-profile role in PTAB rulemaking as one of only six members of the IPO/AIPLA/ABA-IPL Expert Committee on Regulations for Conducting New Post-Grant Review/Inter Partes Review Procedures (also known as the "Gang of 6") and as Post Grant Chair of the AIPLA Special Task Force on AIA Rulemaking. He currently serves as a member of the Board of Directors of the PTAB Bar Association.
His writings in the field of intellectual property law have been featured in numerous legal, business, and scientific publications. Herb also served as Editor-in-Chief of the ABA-IPL Annual Review of Intellectual Property Law Developments and as an associate editor and contributing author of the ABA book, ANDA Litigation: Strategies and Tactics for Pharmaceutical Patent Litigators.
EDUCATION
Indiana University Maurer School of Law, J.D.
Indiana University, B.A., Chemistry
BAR ADMISSIONS/REGISTRATIONS
U.S. Supreme Court
U.S. District Court for the Northern District of Illinois (Trial Bar)
U.S. District Court for the Central District of Illinois
Supreme Court of Illinois
U.S. District Court for the Eastern District of Michigan
U.S. District Court for the Southern District of Indiana
Supreme Court of Indiana
U.S. Court of Appeals for the Federal Circuit
U.S. Court of Appeals for the Seventh Circuit
U.S. Patent and Trademark Office

Education
Indiana University Maurer School of Law, J.D.
Indiana University, B.A., Chemistry
Practices
IP Transactions
IP Litigation
Post-Grant Practice
Trademarks & Copyrights
Bar Admissions/Registrations
U.S. Supreme Court
U.S. District Court for the Northern District of Illinois (Trial Bar)
U.S. District Court for the Central District of Illinois
Supreme Court of Illinois
U.S. District Court for the Eastern District of Michigan
U.S. District Court for the Southern District of Indiana
Supreme Court of Indiana
U.S. Court of Appeals for the Federal Circuit
U.S. Court of Appeals for the Seventh Circuit
U.S. Patent and Trademark Office
Industries
Chemical
Medical Devices
Life Sciences
Related Experience
Partner at Neuman, Williams, Anderson & Olson
Judicial Clerk to Judge George B. Hoffman, Jr., Court of Appeals of Indiana
Professional & Community Involvement
American Intellectual Property Law Association: Amicus Committee; AIPLA Special Task Force On AIA Rulemaking; AIPLA Representative on the IPO/ABA/AIPLA Expert Committee on Regulations for Conducting New PGR/IPR Procedures ("Gang of 6"); Annual Meeting Program Committee; USPTO Inter Partes Patent Proceedings Committee; PTAB Trial Practice Subcommittee of Biotechnology Committee; Post-Grant Proceedings Practice Subcommittee of Chemical Practice Committee
American Bar Association Section of Intellectual Property Law: Council Member; Content Advisory Board; Annual Review Editorial Board; Post-Grant and Inter Partes Patent Office Practice Committee
Intellectual Property Owners Association: Vice Chair of Patent Interferences Committee; Post Grant Patent Practice (U.S.) Committee; Educational Foundation PTO Day Program Committee
Member, Intellectual Property Law Association of Chicago
Firm Representative, International Trademark Association
Presentations
"Estoppel and the Aftershocks of SAS Institute," PTAB Bar Association Annual Conference, Washington DC, March 14, 2019
Intellectual Property Owners IP Chat Channel, "Estoppel at the PTAB: Recent Decisions," Webinar, October 31, 2018
"AIA Estoppel: A New Flavor Of Collateral Estoppel And/or Res Judicata?" Intellectual Property Owners Annual Meeting, Chicago, Illinois, September 24, 2018
Federal Circuit Bar Association and Intellectual Property Law Association of Chicago, Patent Litigation Symposium, "True or False – PTAB Trials and Alice Motions Simplify the Case?" Chicago, Illinois, March 15, 2017
"Ethical Considerations In View Of Amendments to PTAB And Federal Rules," Patent Litigation 2016: The Courts And The Patent Trial And Appeal Board, Federal Circuit Bar Association, March 28, 2016
"Facing The New Wolf Pack: Preparing For Post-Grant Challenges At The Patent Trial And Appeal Board," Joint Committee CLE Session – Biotechnology and ITC Committees, American Intellectual Property Law Association Annual Meeting, October 22, 2015
"Estoppel at the PTAB: Recent Decisions," Intellectual Property Owner IP Chat Channel Webinar, May 28, 2015
"Post-Grant PTO Proceedings," American Conference Institute, March 25-26, 2015
"Navigating A Post Grant Trial At The PTAB," IIPI Bloomberg BNA AIA Post-Grant Patent Practice Conference, February 19, 2014
"Top Ten Myths About PTAB Trials," Intellectual Property Owners Annual Meeting, September 16, 2013
"Post Patent Proceedings: Advantages and Disadvantages for Patent Owners and Patent Challengers," American Intellectual Property Law Association Webinar, April 24, 2013
"Back To The Future:  Post-Issuance Trials at the PTAB," Indiana University Maurer School of Law, March 19, 2013
"Something Old, Something New: Post-Grant Proceedings at the Patent Trial and Appeal Board, "ACI Hatch-Waxman Boot Camp, June 25, 2012
"Looking Ahead To Post Grant Review," Intellectual Property Owners PTO Day Conference, December 5, 2011
Publications
Is That a Complaint? The Grey Area of 35 U.S.C. § 315(b), Intellectual Property Litigation (Summer 2014)
PTAB Declines to Institute Inter Partes Review of Alimta (Pemetrexed) Patent, Orange Book Blog (October 3, 2013) View File
Q&A With McAndrews' Herb Hart, Life Sciences Law360 (July 19, 2012)
U.S. Tries Cracking Down On Economic Espionage, Chicago Daily Law Bulletin (March 9, 2012)
GM Keeping Close Eye on IP in Saab Liquidation, Wards Auto (December 20, 2011)
Managing IP on a Budget, Executive Counsel (August/September 2011)
A True Litigation Alternative: Has The Patent And Trademark Office Delivered?, Intellectual Property Today (September 2009)
Post-Grant Review: Interference Procedure Retooled, Law360 (March 31, 2009)
Facing the Wolves: How To Develop a Survival Strategy for Intellectual Property, BioExecutive (January 2005)
Patent or Perish: How a Delay in Applying Can Seriously Hurt Your Chance of Getting a Patent, Andrews Litigation Reporter (June 2004)
No prize for being second: An introduction to U.S. patent interference practice, Modern Drug Discovery (2002)
Honors & Awards
The Best Lawyers in America – Patent Law
IAM 1000: The World's Leading Patent Practitioners – Intellectual Asset Management
IP Star – Managing Intellectual Property
Life Science Star – Legal Media Group
Project Award, American Intellectual Property Law Association, AIA Task Force
Leading Lawyer – Leading Lawyers Network
AV-Rated, Martindale Hubbell