Maurie G. Baker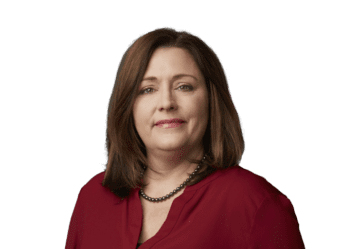 Maurie G. Baker
Ph.D., Patent Agent
Dr. Maurie Baker is a Patent Agent at McAndrews whose work includes patent prosecution and providing technical support for opinion and litigation matters covering a wide range of technology platforms. She is experienced in preparing and prosecuting domestic and foreign patent applications and managing patent portfolios in a variety of technologies, particularly the chemical, biotechnology, and medical fields.
Maurie has over seventeen years of work experience in intellectual property. Before joining McAndrews, she worked for RTI Surgical where she managed a substantial domestic and foreign IP docket related to medical devices in the areas of sports medicine, general surgery, spine, orthopedic, trauma and cardiothoracic technologies. During her time with RTI, Maurie drafted patent applications and Office Action responses while working closely with outside counsel. She collaborated with inventors, performed prior art searches, and provided in-depth IP analysis and support for multiple research and development teams. She also has substantial experience in the areas of IP due diligence, patent landscapes, and clearance opinions.
Maurie also worked for over five years as a patent examiner for the United States Patent and Trademark Office (USPTO). As part of Technology Center 1600, she examined patent applications related to both chemical and biochemical entities, especially in the area of making, using, and screening combinatorial libraries.
Maurie earned her Ph.D. in Chemistry from the University of Texas at Austin (UT) where she held an NSF Minority Graduate Fellowship. Maurie also received her B.S. in Chemistry with Honors from UT.
After obtaining her Ph.D., Maurie worked as a chemist in both industry and academia. She completed postdoctoral research at Texas A&M University in the field of dendritic polymers. She worked as a Scientist in Product Development at Procter & Gamble Co. (P&G). At P&G she worked in OTC medicines, working on new test methodologies and formulations. She also worked at Hercules, Inc. as a Research Chemist in the specialty chemical and food gum areas.
EDUCATION
University of Texas at Austin, Ph.D., Chemistry
University of Texas at Austin, B.S., Chemistry with Honors
BAR ADMISSIONS/REGISTRATIONS
U.S. Patent and Trademark Office

Education
University of Texas at Austin, Ph.D., Chemistry
University of Texas at Austin, B.S., Chemistry with Honors
Practices
IP Transactions
IP Litigation
Patent Prosecution
Post-Grant Practice
Bar Admissions/Registrations
U.S. Patent and Trademark Office
Industries
Chemical
Consumer Products
Medical Devices
Life Sciences
Related Experience
IP Manager at RTI Surgical, Inc.
Patent Examiner for the United States Patent and Trademark Office