Frank Salinas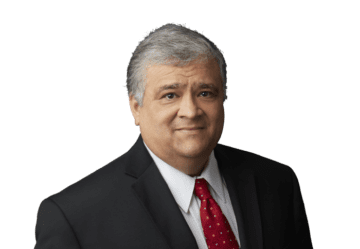 Frank Salinas
Ph.D., Patent Agent
Frank G. Salinas, Ph.D., is a Patent Agent at McAndrews with significant experience in domestic and foreign patent prosecution, opinion, and litigation matters covering a wide range of technologies including the pharmacological, biotechnical, nutritional, and medical device arts.  His prosecution and opinion work has focused on helping clients develop patent portfolios and strategic business initiatives through the comprehensive review and analysis of complex patent and technology landscapes.
Frank received his Ph.D. from the University of Texas, where he was a National Aeronautics and Space Administration (NASA) Fellow in the Department of Chemistry. His research focused on the operation and control of multifunctional enzyme complexes responsible for mediating genetic recombination.
After finishing his graduate work, Frank joined Penn State University's Department of Chemistry as a National Institutes of Health Postdoctoral Fellow. His research at Penn State focused on the development and use of combinatorial protein/peptide libraries and high-throughput screening formats for the directed evolution of novel catalysts and the characterization of bio-effecting synthetic organic compounds.
Through the years, Frank's research has been published in journals such as Cell, Nature Biotechnology, Proceedings of the National Academy of Sciences, Journal of the American Chemical Society, Journal of Biological Chemistry, and Annual Review of Biochemistry.
EDUCATION
Pennsylvania State University, NIH Postdoctoral Fellow
The University of Texas at Austin, Ph.D. Biochemistry, NASA Graduate Student Fellow
Saint Mary's University, B.S. Biology/Chemistry
BAR ADMISSIONS/REGISTRATIONS
U.S. Patent and Trademark Office

Education
Pennsylvania State University, NIH Postdoctoral Fellow
The University of Texas at Austin, Ph.D. Biochemistry, NASA Graduate Student Fellow
Saint Mary's University, B.S. Biology/Chemistry
Practices
Design Rights
IP Transactions
IP Litigation
Post-Grant Practice
Trademarks & Copyrights
Bar Admissions/Registrations
U.S. Patent and Trademark Office
Industries
Chemical
Computer & Electronics Technology
Industrial & Mechanical
Medical Devices
Life Sciences
Related Experience
National Institutes of Health Postdoctoral Fellow at Penn State University, Chemistry Department
Visiting Scientist at the University of Alberta at Edmonton
Graduate Student Fellow at NASA
Honors & Awards
RO1 Supplemental Research Award, National Institute of General Medical Sciences
Alberta Heritage Foundation for Medical Research Fellowship
NASA Graduate Student Researchers Fellowship