Peter J. Lish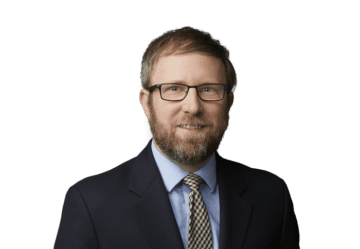 Peter J. Lish
Shareholder
Peter Lish is a Shareholder, and joined McAndrews as a law clerk in 2007 and as a full-time associate in 2009. While with the firm, Peter has gained experience in both litigation and patent prosecution covering a variety of technological areas. Peter currently concentrates on preparing patent applications and managing patent portfolios in a variety of technologies, particularly in the chemical, petrochemical, energy, medical device and mechanical fields.
Peter assists both large and small clients with freedom-to-operate, invalidity, and non-infringement opinions relating to utility and design patents. Additionally, he has extensive experience in post-grant Patent and Trademark Office proceedings, particularly inter partes reviews. He represents both petitioners and patent owners. Much of his work is on behalf of companies that develop new products. Peter's approach typically involves determining which aspects of the product may be patentable, advising the client on the best way to go about obtaining protection, factoring in the associated costs and the effects on the competition, and finally, implementing the appropriate patent strategy.
Given his professional experience as a patent examiner, Peter is an exceptionally effective patent prosecutor who uses patents to help clients either protect their valuable products and services, or ensure that those products and services do not infringe on the patent rights of others. He is also an outstanding writer, with a particular facility for converting technical concepts into writing in a broad range of scenarios, whether in the context of helping an inventor draft a patent application or working with an expert to prepare persuasive arguments for a inter partes review proceeding.
Prior to law school, Peter worked as a patent examiner for the United States Patent and Trademark Office (USPTO). As part of Technology Center 1700, he reviewed patent applications related to chemical products and processes. Peter specialized in the examination of applications directed toward carbon nanotechnology. He also worked extensively in technologies relating to the development of catalysts and sorbents and their use in a multitude of chemical processes. Due to his experience, Peter was selected as a member of the small group responsible for creating the USPTO classification system directed toward nanotechnology. While with the USPTO, Peter was a member of the U.S. Patent and Trademark Office Society. He also was a regular participant in the Atlantic Nanotechnology Forum, a series of monthly lectures on developments in nanotechnology, held in Alexandria, Va.
While in law school, Peter excelled in Intellectual Property courses such as Patent Law, Trademarks & Unfair Competition, IP Litigation, and Telecommunications & Internet Policy. He also served as an Articles Editor for the Northwestern University Journal of Technology and Intellectual Property.
As an undergraduate studying chemical engineering, Peter completed extensive coursework in areas such as Chemical Reaction Engineering, Process Design and Materials Science. He also gained laboratory experience in fields including organic and analytical chemistry. In addition, Peter tutored students in argument formulation and persuasive writing techniques as a member of the University of Notre Dame Writing Center.
EDUCATION
Northwestern University School of Law, J.D., cum laude
University of Notre Dame, B.S., Chemical Engineering, cum laude
BAR ADMISSIONS/REGISTRATIONS
Illinois
U.S. Patent and Trademark Office

Education
Northwestern University School of Law, J.D., cum laude
University of Notre Dame, B.S., Chemical Engineering, cum laude
Practices
Design Rights
IP Transactions
Patent Prosecution
Trademarks & Copyrights
Bar Admissions/Registrations
Illinois
U.S. Patent and Trademark Office
Industries
Chemical
Consumer Products
Industrial & Mechanical
Life Sciences
Related Experience
Legal Intern at the Roderick MacArthur Justice Center
Patent Examiner for the United States Patent and Trademark Office
Professional & Community Involvement
Past Member, U.S. Patent and Trademark Office Society