Troy A. Groetken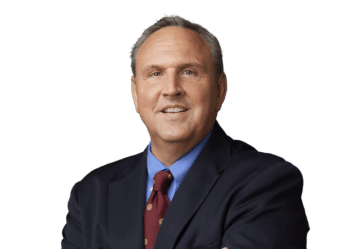 Troy A. Groetken
Shareholder
Troy Groetken is a Shareholder, Board Member, and Executive Committee member with McAndrews. He has approximately 30 years of legal experience in the intellectual property field and more than 30 years of technical experience in the pharmaceutical, biotechnological, and chemical fields. He is recognized in the IAM Patent 1000: The World's Leading Patent Professionals, IAM Strategy 300:  The World's Leading IP Strategists, as an IP Star by Managing IP, and he has been listed as one of the Best Lawyers in America since 2012.
As a registered U.S. patent practitioner, Troy regularly counsels and is known globally as the "go-to" intellectual property attorney for Fortune 100 and 500 clients regarding complex intellectual property matters involving strategic global patent portfolio development, implementation and enforcement. This is especially the case for matters impacted (e.g., IPR, PGR, advanced patent litigation, including FTC matters) by recent changes caused by the AIA and ANDA/ABLA regulatory schemas. Troy also advises upon and institutes multi-level front-end and back-end licensing programs coordinated with a client-focused business modeling approach including acquisition, divestiture, platform positioning and the like. He strategically addresses multi-jurisdictional intellectual property integration issues, ranging from core and non-core patent portfolio due diligence analysis to global portfolio coordination matters (e.g., coordination of complex U.S. reexamination or reissue proceedings with European, Asian and Australian appeals and opposition), among other services.
Troy regularly assists clients with respect to a broad range of technical disciplines involving the chemical, pharmaceutical and biotechnological arts encompassing new drug (small-molecule, protein, recombinant, combinatorial technologies, assay, etc.) entities, assays, immunoassays, biological molecular technologies, API development and positioning, generic pharmaceuticals, biosimilars, pharmaceutical conjugates, surfactant technologies, agricultural compositions, food-based technologies, animal compositions, gellants, polyols, lubricants, coatings, elastomers, sealants, adhesives, biocides, medical devices, drug delivery formulations, laundry and cleaning products, inorganic and organic synthesis products, pharmaceutical supplements, personal care and cosmetic formulations, oil and gas technologies, alternative fuels, fuel cells, renewable energies, among others.
He also regularly counsels Fortune 100 mechanical and electrical companies with respect to intellectual property matters ranging from heavy-duty industrial products (e.g., diesel engines and aircraft technologies) to small appliances.
Prior to practicing patent law, Troy worked as a clinical consultant pharmacist, supervised drug research programs in coordination with the FDA, evaluated drug management protocols, and performed drug treatment trials on behalf of various hospitals and research institutions.
EDUCATION
John Marshall Law School, LL.M., Intellectual Property Law, Honors
Drake University Law School, J.D., cum laude
Drake University, College of Pharmacy, B.S., Pharmacy, cum laude, Rho Chi
BAR ADMISSIONS/REGISTRATIONS
Illinois
Iowa
United States Supreme Court
Federal Circuit Court of Appeals
District Courts for the Northern District of Illinois and the Southern District of Iowa
U.S. Patent and Trademark Office
Registration Certificate (Roll of Patent Agents)
Canadian Patent Office

Education
John Marshall Law School, LL.M., Intellectual Property Law, Honors
Drake University Law School, J.D., cum laude
Drake University, College of Pharmacy, B.S., Pharmacy, cum laude, Rho Chi
Practices
Design Rights
IP Transactions
IP Litigation
Patent Prosecution
Post-Grant Practice
Trademarks & Copyrights
Bar Admissions/Registrations
Illinois
Iowa
United States Supreme Court
Federal Circuit Court of Appeals
District Courts for the Northern District of Illinois and the Southern District of Iowa
U.S. Patent and Trademark Office
Registration Certificate (Roll of Patent Agents)
Canadian Patent Office
Related Experience
Licensed pharmacist, Illinois, Iowa and Michigan
Honors & Awards
IAM Patent 1000: The World's Leading Patent Professionals
Lawyer of the Year, USA – Patents, Lawyer Monthly, 2016
Legal Elite Award Winner, 2016
The Best Lawyers in America, selected by peers, 2012 – Present
Rising Star, Illinois Super Lawyers independent survey, 2008, 2009
40 Illinois Attorneys Under Forty to Watch, Law Bulletin Publishing Company, selected by peers in 2009
Representative Matters
Chiesi Farmaceutici s.p.A. v. Mesoblast International Sárl, Patent No. 2298863 (05/03/2016) Subject: Mesenchymal stem cells
Fatigue Fracture Technology, LLC v. Navistar, Inc., Case No. 15-cv-5667, (06/25/2015) Subject:  Fracturing technology
Kovin Associates, L.P. v. Duo-Gard Industries, Inc., Case No. 15-cv-2058, (03/09/2015) Subject: Roofing technology
Desmond Mark Chapman v. Osiris Therapeutics, Inc., Case No. T 1147/15-3.3.08 (07/09/2015) Subject: Mesenchymal stem cells
Polyguard Products, Inc. v. W R. Meadows, Inc. (02/28/11 – 03/2012) Subject:  Sealant based product and process
Shire LLC v. Travis C. Mickle, Ph.D. and KemPharm, Inc. (09/29/10 – 05/12/12) Subject:  Pharmaceutical conjugates
Strawman Limited v. Osiris Therapeutics, Inc. (European Opposition) (2012) Subject:  Joint Repair Using Mesenchymal Stem Cells
Cognate Therapeutics Inc.; Harvey Vaughan John Adams v. Osiris Therapeutics, Inc. (European Opposition) (2008) Subject: Muscle regeneration using stem cells
Akzo Nobel v. Stepan Company (European Opposition) (2006) Subject:  Surfactant technology
Publications
The Critical Importance of Patent Protection for Diagnostics in the COVID-19 Era,  http://www.mddionline.com/legal/critical-importance-patent-protection-diagnostics-covid-19-era,
Patents, www.lawyer-monthly.com, LM77-16, p. 87.
Inter Partes Review, Development and Procedures, Today's General Counsel, Vol. 12, No. 1, Feb/Mar 2015.
An alternative litigation strategy: ADR + IPR, Insidecounsel.com, March 26, 2014. View File.
Should the Supreme Court address claim construction in patent cases?, Insidecounsel.com, March 12, 2014. View File.
Sufficiency of disclosure and the great divide between the U.S. and Europe, Insidecounsel.com, February 26, 2014. View File.
The perfect storm that led to the rise of design patents, Insidecounsel.com, February 12, 2014. View File.
Can personalized medicine survive Prometheus?, Insidecounsel.com, January 29, 2014. View File.
Is Patent Reform, Round II a bad idea?, Insidecounsel.com, January 15, 2014. View File.
Using Patents as a Business Asset in Today's Economy, Life Science Leader, July 2011
Presentations
Speaker, Artificial Intelligence and Precision Healthcare, BIO International Convention 2022, San Diego, CA, June 15, 2022
Best Practices: PGR Procedures, U.S. and Foreign Venues – 2016
Best Practices Regarding Patent Prosecution Under 35 U.S.C. § 101, U.S. and Foreign Venues – 2015
Best Practices: IPR Procedures, U.S. and Foreign Venues – 2015
Best Practices With Respect to U.S.C. § 112, U.S. and Foreign Venues – 2014
Best Practices: Controlling Litigation Costs, U.S. and Foreign Venues – 2013
"U.S. Patent Reform:  A Major Update," Numerous U.S. and European venues – October-November 2011 and May 2012
"KSR – Practical Approaches," American Intellectual Property Law Association (AIPLA) Roadshow – June 23, 2011
"Biosimilars Legislation in the U.S.," U.S. and EPO Patent Law Update Symposium – Chicago, May 19, 2011
"Biosimilars Legislation in the U.S.," U.S. and EPO Patent Law Update Symposium – Munich, May 3, 2011
Professional & Community Involvement
American Intellectual Property Law Association (AIPLA)
American Pharmacists Association (APhA)
American Society of Consultant Pharmacists (ASCP)
Association of Patent Law Firms (APLF)
Federal Circuit Bar Association
PTAB Bar Association
Batavia Lions Club
Batavia Moose Lodge
Millcreek Neighborhood Crime Watch Captain